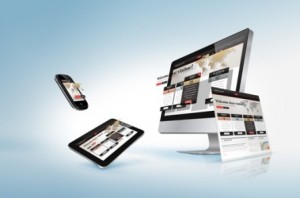 Omni-channel, the buzzword that has overtaken multi-channel, is the concept of integrated touch points that together create an uninterrupted, immersive experience that is channel and device agnostic.
Omini-channel drives engagement, purchase and loyalty. That's because the cross platform approach integrates customer experience regardless of which channel or device your customer is using. The customer-centric benefits of omni-channel are best experienced using responsive design. ­It creates the optimal viewing experience across multiple devices providing easy navigation with minimal changes. It's, flexible, adaptable and the best way to test, learn and iterate often.
When you're able to deliver quality websites across multiple devices with one theme to serve all kinds of devices with different screen resolutions, you're giving your customer what they want – an engaging, positive experience. By adapting a layout to the viewing environment with fluid proportional grid layouts, flexible images and CSS media queries to re-flow page elements at lower resolutions, responsive design equates to less redundancy and greater consistency. You can resize your browser while looking at a responsive design site and the layout and content will reflow to fit the screen width as it gets smaller.
Responsive design is expected to continue playing a major, robust role in all types of web development projects. Developers like responsive design and so do customers who understand the advantages of it.
Since the ultimate goal of a successful website is to fully optimize the customer experience, it only makes sense to use responsive design to deploy an effective omni-channel marketing strategy. Omni-channel is about continuity of the customer experience and It lets customers own their data and experience it, using it to guide creation and context of future experience.
Mobile sales continue to increase, but mobile will not replace the diverse omni-channel experience that consumers have come to expect. Instead, it will serve as the key enabler. Customers want the ability to shop and engage with their favorite brands anytime, and they want these experiences to be seamless whether they are online or in-store. Mobile provides the ability to stay connected to the consumer through all points on the customer journey: discovery, choosing, buying, using.
Kurt Marko, editor-at-large for InformationWeek comments on omni-channel in this excerpt:
"The nexus of mobile, social, cloud and big data is radically reshaping the business world, and nowhere is the upheaval more dramatic than in areas with high customer engagement: retailing, financial and communications services, travel, customer service and technical support. Such profound changes in the landscape, driving heightened consumer expectations have pushed beyond the consumerisation of technology to the consumerisation of customer experience."