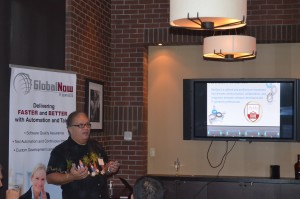 Last week, GlobalNow hosted the second installment of our DevOps Happy Hours at Gordon Biersch in Dallas. Mike Rosado, a twenty-plus year Microsoft alum, gave an excellent presentation that captured the true essence of DevOps and demystified some of the concepts key to the movement. You can find his slide deck here.

This month's topic was "DevOps 101" and we really took our time working through the presentation. The group discussed questions as they arose and we all shared real-life examples, success stories and strategies to overcome hurdles. And Mike did a great job of shepherding us through some gray areas. By the time we wrapped up at 7:30, everybody left knowing a little bit more about DevOps AND with their own copy of The Phoenix Project, courtesy of GlobalNow and tee shirts courtesy of Chef and Cloudbees/Jenkins via our speaker Mike..
We're really enjoying these events and we think you will too. If you haven't received an invite in the past and would like to be added to our guest list, please email me at lcarter@globalnowinc.com and I'll be sure to add you.
Our next event will be in December and we're already working on lining up another great speaker. We hope to see you there!
Cheers.
Lee Carter
Director of Business Development – GlobalNow IT