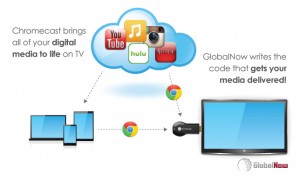 It's what consumers want: to be engaged and entertained with the simplicity of streaming media, which continues to change the face of cross-platform development and delivery. At the forefront of streaming media is Google's Chromecast, a thumb-size device that you plug into an HDMI port on your television and voila! You can instantly stream entertainment – YouTube, Hulu, Netflix and more – through the Internet from your choice of mobile devices.
If your company creates media content – from movies to video games to retail websites – you understand the challenge of keeping up with the different platforms and devices being used by your customers. Finding the quality solution is key to solving your biggest streaming media challenges.
Aside from software development experience, you also want to ensure that multi-platform development and testing experience is there. Only then can you be assured that your customers will get the same high quality delivery across all devices, including Chromecast.
When you give your customers what they want –streaming media in any format they choose – your company reaps the benefits of increased revenue and a more streamlined (and happy) customer experience.