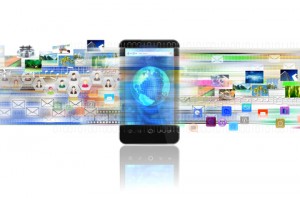 With the smartphone market more crowded than ever (56% of American adults are smartphone owners) and the demand for mobile device apps at an all-time high, total quality software testing is in unprecedented demand. Mobile software testing must be comprehensively executed, with test cases performed across the devices that largely encompass your target market. And identifying your target market can be an overwhelming challenge in and of itself.
Considering the fact that 55% of the world's cell phone owners say their main source of Internet access is their mobile device, the voracious need for quality mobile device apps and testing leaves developers reeling.
A recent survey conducted by Appcelerator, shows mobile device app delivery is incredibly slowed by the deluge of multiple devices and platforms. So what can developers expect?
Wired calls mobile the third and final technology wave, the first being the advent of the PC followed by the Internet. Here's what Wired suggests that mobile developers have to look forward to in the days ahead:
"The role of the mobile developer will grow and become more central to the entire SDLC chain as new devices with the same mobile technologies drive new "packaging" and evolving methods of engagement. Developers shift from programming "point and click" to advanced technologies involving pinch, zoom, swipe, eye gaze detection, increasing the speed and complexity of these devices. With history as our guide, the increase of development velocity will continue, as will the necessity of automation to balance requirements of increased speed of delivery and quality.
As the final technology wave, mobile continues to drive innovation and we can expect numerous extensions of mobile technology into areas that we haven't even imagined yet. Application developers and enterprises will need to extend their mobile testing matrix to cover these new types of devices, which will only grow in the future."
One solution that has proven effective is Automation Application. Automating application deployment can accelerate time to market in a way that reduces pressure on development teams by aligning development and operations effectively.
Overall, the enormity of changes ahead will likely require both cultural and technological adjustments to get the job done effectively. But the effort put into automation and process integration can pay substantial dividends as mobility solutions continue to evolve.