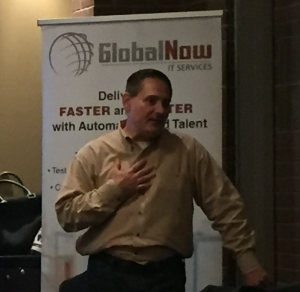 We were fortunate to have William Gordon, Regional CIO of NetApp speak at our DevOps community session last week here in Dallas. I've seen William speak several times previously, and as always, William's presentation was engaging and informative, and his topic "The Culture of the New Workforce" was very relevant to the DevOps movement.
William provided great insight regarding the current job demands faced by CIOs and how it relates to the expectations from the millennial workforce. I tried to capture some of his key thoughts – highlighted below:

The job tenure of CIOs appears to be shorter than ever, with significant pressure to meet multiple objectives – some that often appear to be conflicting. For many CIOs, data and system security is the overriding concern, as we can all understand and appreciate. But, the CEOs are demanding (and applying strong pressure) that CIOs enable rapid product delivery to meet market demands. In general, the millennial workforce is often more comfortable and capable with "balancing" security requirements for agility (at least that's the perception of many CEOs). This reality/perception can sometimes be a disadvantage to more senior CIOs, as they can be viewed as out of touch with the skills and methods necessary for rapid delivery.    
So how is the above relevant to DevOps?   As William pointed out, there are at least two tangible tie-ins:
DevOps inherently can improve speed and accuracy of delivery, meeting the needs of millennials and the business
If implemented properly, DevOps can help save the job of CIOs that are under fire for rapid delivery
Most of us understand that DevOps, without the necessary cultural attributes, will not succeed. Teams must be conditioned to work together, share information and knowledge, and collectively work on tasks that are beneficial to all teammates and the associated business drivers. Millennials seem to understand and often thrive within this philosophy, possibly due to that fact that they may not have been as "corrupted" by some of the traditional operational silos that have impaired the ability of many companies to deliver.
In short, if done correctly, DevOps drives agility, meets the teaming needs of the millennial workforce, and allows CIOs to strike the right balance between speed and security.
Bob Foster