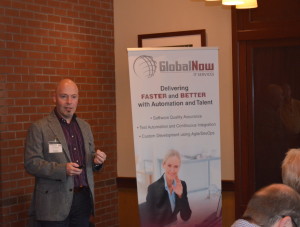 By: Lee Carter – Director of Business Development – GlobalNow IT
Last night, we hosted a DevOps Happy Hour at a restaurant in the Plano area just north of Dallas. It was the first in a series of invite-only Happy Hours that we'll be hosting in order to shine a light on new developments in the DevOps arena.

In spite of an artic blast that caused temperatures in North Texas to plummet into the upper 80s, attendees braved the elements to join us as Paul Grizzaffi, QA Automation Manager and Program Architect at Alpharetta, GA based MedAssets presented "Sail or Fail: Navigating Test Automation Pitfalls." Paul is a real rockstar when it comes to automation tools and frameworks and we couldn't think of a better speaker for our inaugural event.
Over the course of 60 minutes, Paul addressed key topics such as:
Is my organization READY for automation?
What will automation help my organization accomplish?
What is Framework Layering? How can it help?
Will automation fix my broken processes?
Automation is the magic bullet that will solve all of my problems, right? (Spoiler alert: It isn't.)
Paul has given this presentation at the DFW Association for Software Engineering Excellence and STPCon and we were lucky to have him present it once again for us. The space and the atmosphere weren't really conducive to shooting video, but here's a link to Paul giving the presentation to another group. It has evolved since this video was filmed, but the core content remains.
Thanks to everyone who joined us for a couple of hours of drinks, food, and education. We hoped you took something away from the evening that will truly help you transform your organization.
We are planning to do one of these events every other month, so if you're interested in attending, know a great speaker or would like to recommend a topic that's been vexing you, please send me an email at mailto:lcarter@globalnowinc.com. I'd certainly love to hear from you.
Keep getting better!
Lee